21 Stunning Images Showing All Aspects of a Snowy Winter
Although not everyone is a lover of winter days, you have to admit that this time of year is a real artist. It decorates windows, forests, fences and creates fairy icicles. On the other hand, it can cover doors with snow or immobilize cars. 
#1 Underneath a Waterfall (Helmcken Falls, Canada)a Large Ice Structure Resembling a Volcano Was Formed
#2 When Boiling Water Freezes in the Air During Freezing Weather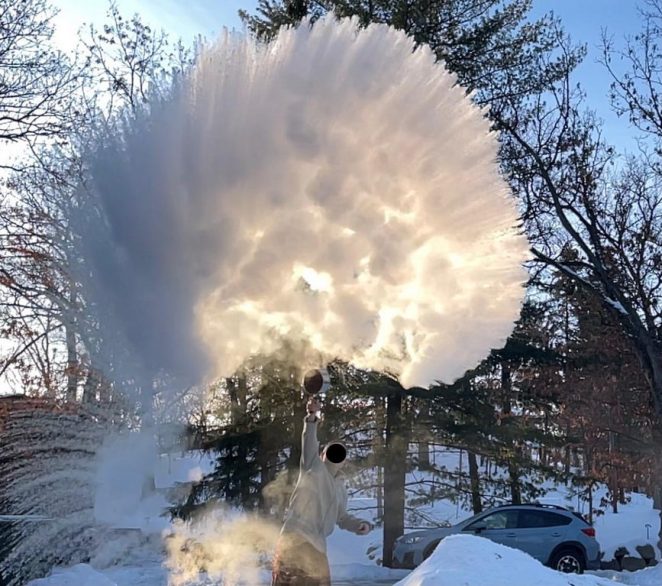 #3 Ice Net
#4 A Lovely Snow Cap
#5 When You're a Fireman and You Put Out a Fire in the Freezing Cold
#6 A Windmill in the Winter
#7 A Snowy Building in Canada
#8 Winter Art
#9 Ice Chain
#10 No One Leaves the House Today
#11 Forest After Snowstorms in Finland
#12 A Lake With Ice Daggers Sticking Out of It
#13 Like Waves on the Sea
#14 A Star on a Wheel
#15 Frost Is a Skilled Artist
#16 When the Temperature Doesn't Feel Like Leaving Home
#17 When an Icicle Looks Like a Woman
#18 This Ice Is Fun to Drive On
#19 Snow Has Settled on the Zoo's Aviary
#20 Drivers Don't Seem to Move Until It Melts
#21 Frozen Pajamas Can Take On Interesting Poses
Which photo impressed you the most?