The School Bus Has Become a Beautiful Home on Wheels. It Stands Out for Its Unique Interior
Robbie and Priscilla had two great dreams to fulfill – traveling around the USA, then the world and having a home. Therefore, they combined both, bought a school bus from 1998, rolled up their sleeves and started renovating it into a home on wheels.
Steam Before the Yellow Bus
Starting Work Is Always Difficult
This Is What the Inside of the Bus Looks Like After Taking the Seats Out.
Work Lasted Until Late at Night
Painting Started
Assembly of Cabinets
Installing Spotlights
Many people in the USA would have chosen a caravan car or camper in their place, but for extra special experience, Robbie and Priscilla realised they wanted to make their home more spacious than a caravan. And they made their dreams come true. In a year and a half, they transformed the school bus into an unrecognizable bus. Inside nothing resembles a bus anymore and if you look at the pictures you can think that it is just a small, cosy house, which someone very tastefully arranged and put a lot of heart and work into it.
Charming Living Room With a Kitchen
The Bed Rests on a Washing Machine 😉.
Bathroom in White Mosaic Tiling
Extravagant Toilet Tiles
Both Robbie and Priscilla have been working remotely for a long time and intend to spend the next few years (or even longer) on a continuous journey. What's interesting is that to feel really like a real home, they have enclosed some of the walls with real bricks. As you can see from the pictures the couple loves to spend time in the kitchen – it is the one that takes up the most space and looks most impressive. Apart from the couple, the bus has another resident, a red-headed kitten, who likes to lie down at the driver's seat.
Attentive Front House Security, Mr. Cat
Beautiful View From the Window Tough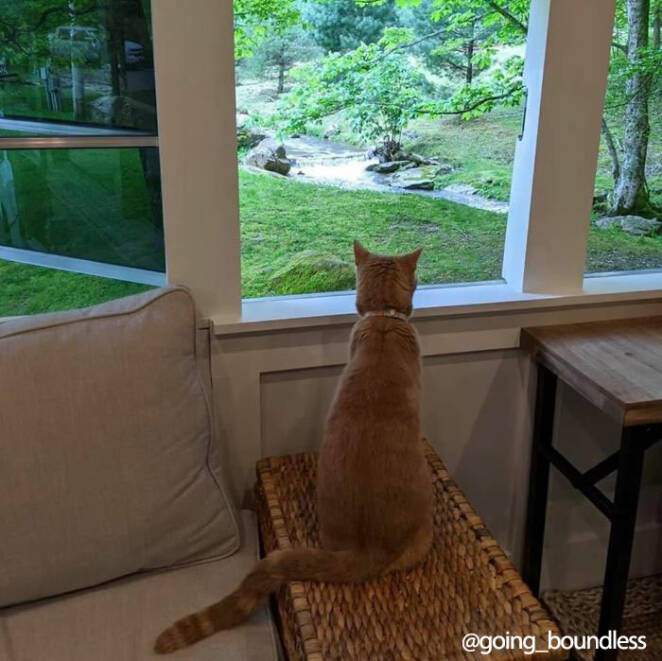 Humble Backyard 😉.
The couple had already travelled a lot, in March last year, they went on a trip around the country for many months, visited 137 different cities. Only the coronavirus pandemic interrupted their long journeys. Having a mobile home will save them a lot of money and make their travel easier. In the beginning, they plan to move mainly around the USA and Canada, but they also think about going somewhere further. They just don't know the direction yet.
Small Windows to the Wild World
White Themed Kitchen Style
Comfortable Driver's Seat Past Kitchen
It's Time to Get Going
It is worth mentioning, however, that maybe the couple will have to postpone their plans considerably because there is something that they probably didn't take into account completely during the renovation, and that many Internet users have noticed. The interior of their house is very badly balanced in terms of driving – almost all the heaviest items of equipment are placed on one side. This will probably have a very strong influence on the steering of the vehicle and it is not known if the couple will be able to move their bus for longer distances without making any serious alterations.
What do you think about such a wheeled house lifestyle?