15 Amazing Trails That Will Make Every Trip an Unforgettable Experience
While traveling, I guess everyone happens to wonder through various mysterious trails. Some of them are really extreme and your adrenaline will be pumping. Check out the world's most twisted roads, airports where it's hard to seat a plane and trains passing through marketplaces.
#1 Trollstigen, Norway
Road of Trolls consists of 11 zigzagged slopes in the mountains. In many places they turn at an angle of 180°. The road can be traveled from mid-May to October.
#2 Los Libertadores International Pass, Andes
This road runs through a pass in the Andes. Twenty-nine serpent like trails on steep hills connect Chile with Argentina. The highest point on the route rises to an altitude of over 2,500 miles. The statue of Christ the Redeemer is located at this point.
#3 Princess Juliana Airport, Caribbean
Maho beach is located on the Dutch part of the island of Sint Maarten. An international airport was built in its vicinity. The airport has only one runway and is separated from the beach by a two-lane roadway. Due to this the planes taking off and taking off into the air fly very low over the tourists.
#4 Road of Death, Bolivia
This route is 40 miles long. You will not find any asphalt or railings on it. It is famous for its sharp curves and precipices. In 1995 it was awarded the title of the most dangerous road in the world. All because annually, while trying to overcome it, died about 200-300 people.
#5 Mae Klong, Thailand
There is a market near Bangkok, with a railroad line running through it. When the beep sounds, the traders rush to clean their goods. After all, no one would want to get under an oncoming train.
#6 Juancho E. Airport. Yrausquin, Netherlands Antilles
The airport is located on the island of Saba. It has a short runway (333 yards long) located adjacent to cliffs and high hills. As such, it only serves helicopters and manoeuvrable aircraft.
#7 Lombard Street, USA
This is one of the most twisted streets in the world. You can see it in San Francisco in the Russian Hill neighborhood. There are as many as 8 curves on the length of 437 yards and the speed limit is 8 km/h. The street was designed in 1922 and it was supposed to solve the problem of very steep exit.
#8 Tunel Guoliang, Chiny
This road was carved into the side of a mountain. It connects Guoliang village (located in a valley and surrounded by mountains) with the rest of the country. It stretches for 745 miles. The entire tunnel was made by local residents who sold their livestock to raise the funds needed for construction.
#9 Railway Bridge Pamban, India
It connects the island of Pamban to the mainland. The entire structure is supported by 143 pillars and stretches over 2000 meters. The bridge was put into service in 1914.
#10 Gisborne Airport, New Zealand
This airport has four runways (three of which are grass). One of them (the solid one) is crossed by railroad tracks.
#11 Eshima Ohashi Bridge, Japan
This bridge, which looks like a Ferris wheel from an amusement park, connects two cities on the island of Honsiu. Viewed from the right perspective, it resembles a vertical wall on which cars climb. In fact, its gradient is not high (6.2%) and the legal speed limit is 40 km/h.
#12 Transfagarasan Route
This is a national road located in central Romania, which crosses the ridge of the Fogaras Mountains (from where it borrowed its name). It stretches for more than 93 miles, and at its culmination rises to a height of 1268 miles above sea level. There are many attractions along the route (the longest Romanian tunnel, Lake Vidraru, 830 bridges, or Poenari Castle, which used to belong to Vlad the Impaler).
#13 Ha Giang Loop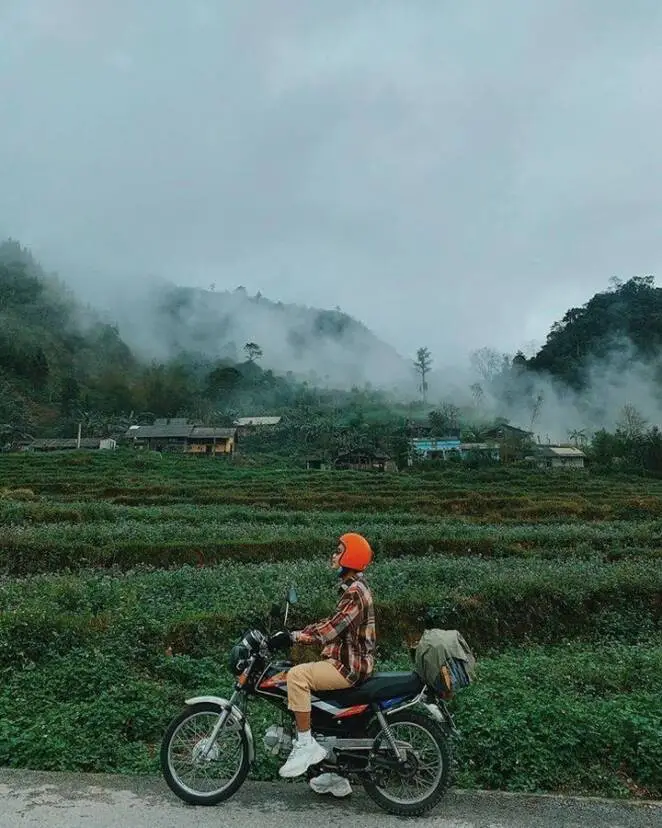 Is the biggest attraction of Ha Giang province located in the northeast of Vietnam. The total length of the loop is more than 248 miles and is best traveled by scooter or motorcycle. The views along the entire route are stunning. Every traveler will admire rice fields, mountains, small towns, hanging bridges, rivers. Definitely for lovers of winding roads like serpentines 😉 .
#14 Stelvio Pass
It is a passable road leading through the Stelvio Pass located in the Italian Eastern Alps. It was built in the first half of the 19th century and its highest point is at an altitude of over 1677 miles. The most spectacular section consists of 48 hairpin bends. The pass often hosts participants in the Giro d'Italia race.
#15 Dalton Highway
It is a highway that was built in Alaska (USA) as a road used to deliver supplies to the builders of the Trans-Alaska oil pipeline. It is one of the most isolated from civilization roads in the USA. On the route, which is 413 miles long, there are only 3 small towns. In the largest of them resides about 30 people. Dalton Highway for a considerable length is covered with gravel.
#BONUS
Finally, a hugely overcrowded train in Bangladesh. Residents are trying to get back to their homes before one of the Muslim holidays. More than 163 million people live in this country.
Which trail impressed you the most? Or maybe you have already hiked one of them?