The World Once and Now. 15 Photos Revealing Facts About Extraordinary Changes on Our Planet!
Unfortunately, the Earth is constantly changing. And they are not always for the better. Satellite images and those taken from high altitude clearly prove that the degradation of the environment is a fact. Unfortunately, a large part of it is man-made. NASA and other organizations and individuals collect data and document any environmental changes in the form of photographs.
#1 The solar power plant in Usagre, Spain is the largest one in Europe. It covers an area of almost 10 square km (March 2019 – February 2020).
#2 Island of Luzon in the Philippines before and after the eruption of the Taal volcano (December 2019 – March 2020)
#3 Koulun peninsula – Hong Kong 1964-2016
#4 The Arctic 88 years ago and today
#5 Shanghai 1990-2010
#6 The Matterhorn in the Alps – on the border of Switzerland and Italy in August 1960 and 2005
#7 Toboggan glacier in Alaska. The first photo comes from 1909 and the second one from 2000.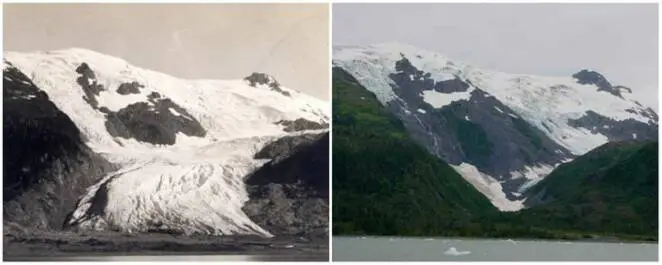 #8 Lake Powell drying out (located in Arizona and Utah) From 1999 to 2014
#9 Mabira forest in Uganda from 2001 to 2006 – significantly increased green areas
#10 The construction of a dam on the Dasht River in Pakistan in 1999 resulted in a significant increase in green areas in 2011.
#11 A great project in the Libyan desert led to the irrigation of parts of the desert. Project
#12 This is how Lake Oroville in California changed between 2010 and 2016
#13 Glacier Pedersen in summer 1917 and 2005
#14 Glacier Muir in Alaska in August 1941 and 2004
#15 Argentine Mar Chiquita Lake in 1998 and 2011
What do you think about these changes?