20 'Till Death do us Part' Couples. Years Later They Recreated Their Beloved Photos
These days, partners change like gloves used to. But there are couples who fell in love many, many years ago and have remained inseparable forever. It's hard not to envy them.
Here's a collection we'd like to be in someday ourselves.
#1 Queen Elizabeth and Prince Philip in 1947 and 60 Years Later
#2 "One of My Best Friends Married the Girl of His Dreams. They Met When They Were 3 Years Old."
#3 "My Wife May Be a Vampire. Almost 20 Years Later, Wearing the Same Dress"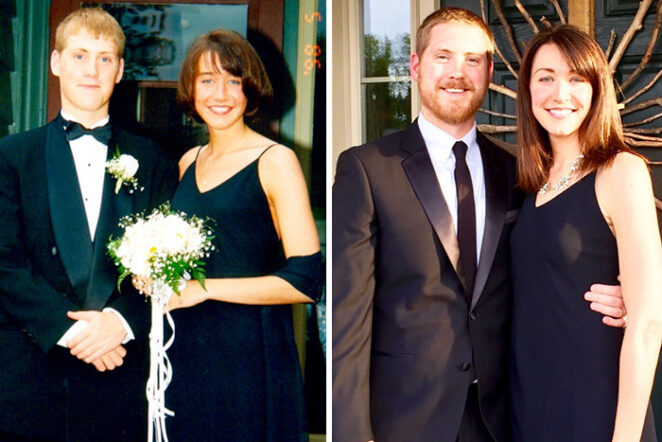 #4 This Couple Recreated Their Wedding Day after 70 Years
#5 "Couple Celebrates 40th Anniversary by Recreating Their 1975 Wedding Photo"
#6 "I Convinced My Parents to Recreate Their Wedding Photo 45 Years Later"
#7 "My Grandparents on Their Wedding Day and 60th Anniversary"
#8 Bridesmaid and Best Man at Someone Else's Wedding and Their Own 20 Years Later
#9 "Katie Met Joseph in Elementary School. Now They Are Married and Have a Son."
#10 From a Carnival Bride and Groom in 1926, to 70 Years of Marriage
#11 Aubrey and Mike Were Born Almost at the Same Time in 1989. They Started Dating in 2012 and Married in July 2015.
#12 No Longer Youthful, but Always Beautiful
#13 "Here We Are, Almost 44 Years after Our Wedding. To My Amazement, the Wedding Dress Still Fits Me. 1971 I 2015"
#14 "Alex Was 13 When She Fell in Love with Adam. They Have Always Been Together Ever Since."
#15 "As Teenagers on Our First Date We Took a Wild West Style Picture of Each Other. Exactly 20 Years Later We Took Another"
#16 "My Parents in 1970 and 2010"
#17 A Couple as Long-Lived as Their Car
#18 Still the Same
#19 "My Grandparents on Their Wedding Night and 60 Years Later"
#20 Over 32 Years Have Passed and They're Still in Love
Which of these ahas be the most moving for you?