17 Amazing Photographs From The Past
There are some photos that have become icons and tell us more than 1000 words about the past. They may not necessarily be familiar to everyone, but they always tell us about something interesting or important from human history.
These photos are uncommon.
#1 Residents of West Berlin Show Their Children to Their Grandparents
#2 This Color Photo Was Taken Before There Were Real Color
Long before color film was invented, Russian photographer Sergey Prokudin-Gorsky took 3 individual black-and-white photos, each with a filter (red, blue, and green) to produce high-quality full-color images. This self-portrait is over 110 years old.
#3 Silent Film Actress Delores Costello, Grandmother of Drew Barrymore, 1928.
#4 Marilyn Monroe in 1950.
#5 The Human Chain
On August 23, 1989, some 2 million people from Latvia, Estonia, and Lithuania formed a human chain that connected all three countries to show the world their desire to leave the Soviet Union.
#6 A German Soldier Helps a Young Boy Get Over the Berlin Wall, 1961.
#7 Sailors Saluting a War Veteran, Leningrad 1989.
#8 One of the WWI Sites a Hundred Years Ago and Now
#9 Dinosaur Tracks From 150 Million Years Ago in France
#10 Intact for 3000 Years
The seal of Tutankhamun's tomb (on the third golden chapel) before it was opened in 1923. It remained intact for over 3,000 years
#11 20-Year-Old Helen Mirren as Cleopatra  (1965)
#12 Star Wars Characters Together: Han Solo, Darth Vader, Chewbacca, Princess Leia, Luke Skywalker and R2-D2, 1977.
#13 Bruce Lee and His Family in 1970.
#14 House on Wheels, 1922
#15 Niagara Falls Frozen Over in 1883
#16 American Soldiers During Mass in the Rubble of Cologne Cathedral, March 1945.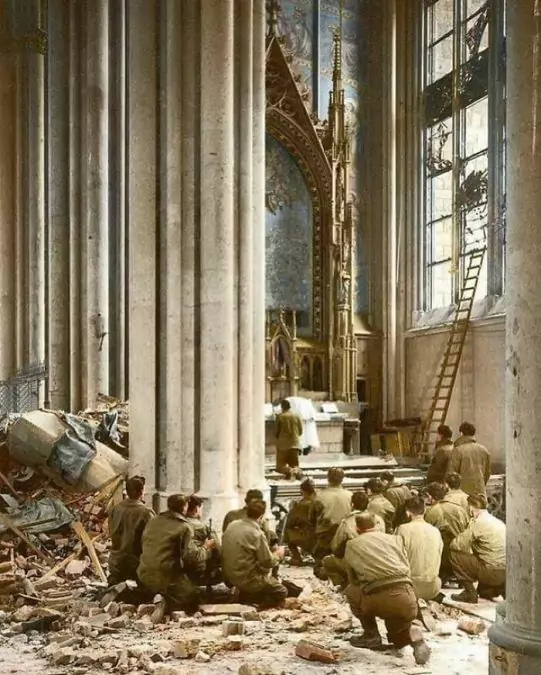 #17 LT. Col. Robert Stirm Is Greeted by His Family Upon His Return Home After More Than Five Years as a Prisoner of War in Vietnam. This Photo Marked the End of an Era in the United States (1973)
Which one surprised you the most?