27 Proofs That Nature Is Hungry for Life and Consumes Everything It Meets in Its Path
The power of nature is immense. Although we cut down forests to build housing or furnitures, nature will find a way to eventually consume an abandoned house, church or even a track. In the determination, it gradually brings to life anything that's been abandoned. Green power is great!
#1 Moss- and Grass-Covered Tracks in Taiwan
#2 Non-Functioning Amusement Park
#3 A Castle in Ireland Slowly Being Swallowed up by Vegetation
#4 The Abandoned Fishing Village of Houtouwan in China
#5 Abandoned Car
#6 UFO Ship-Shaped Houses in Taiwan
#7 The Tree That Grew Inside the Sign
#8 A Clump of Real Grass Among Its Artificial Counterpart
#9 An Unused Bridge in New Zealand
Bridge
#10 A Canal Boat That Turns Into a Floating Island
#11 A Tree Growing Inside a Chimney in Berhampur, India
#12 Tower of the Quinta Da Regaleira Mansion in Portugal
#13 Abandoned Orangery
#14 A Fig Tree Engulfs a Shiva Temple in Bangladesh
#15 A Car Lay in the Woods for Over 40 Years
#16 Piano Left to the Mercy of Nature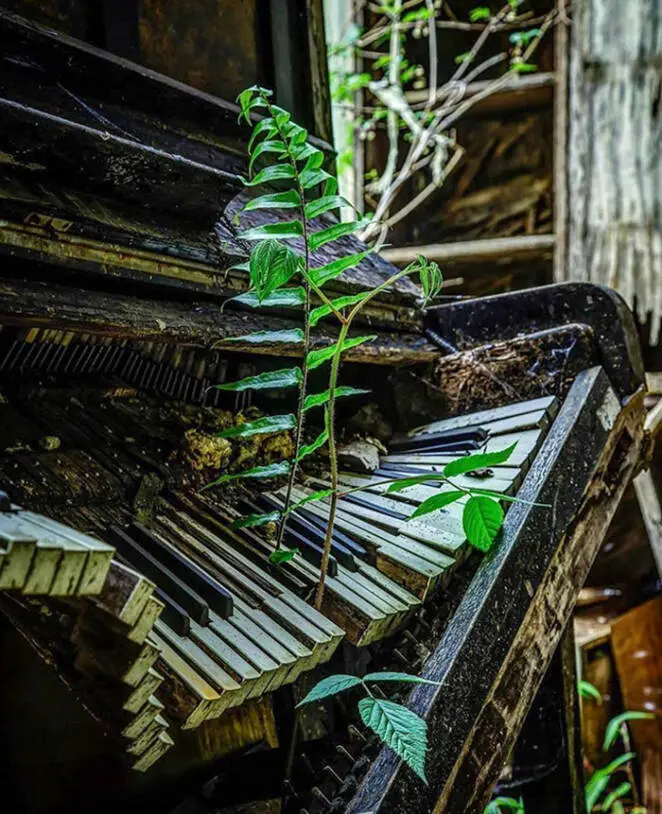 #17 A Tree Perched Above the Gates of Putzar Castle (Germany)
#18 Ship Hits Coral Reef off Solomon Islands
It Lives There for at Least 20 yrs Now.
#19 The Tree That Absorbed the Sign
#20 A Non-Functioning Synagogue
#21 A Tree Surrounds the Railings
#22 An Oak Tree Climbs the Railing
#23 A Plane Abandoned in the Forest
#24 A Non-Functioning Mill in Britain
#25 An Asian Temple Overgrown With Vegetation
#26 Trees Have Grown up Through Where the Windshield Used to Be on a Car
#27 A Tree That Likes to Eat Almost as Much as You Do 😉 .
Aren't these hilarious, let us know which picture you've like the most?