39 Slightly Disturbing Food Photos That Will Puzzle Anyone
The following photos, although they show food and groceries, do not encourage people to eat. Instead, they arouse surprise, slight consternation and are an inspiration for all those who search for curiosities and strange situations.
#1 Mike Wazowski is Alive 😉
#2 When No One Is Looking the Tomato Starts Grinning Its Teeth
#3 A Modern Variation of Carving – Shape a Roast Chicken
#4 A Disappointing Face Just Before Throwing Into the Pot
#5 Chocolate Gorilla Rests on Soft Toast
#6 Bacon Kimono
#7 Yoda Serves Drinks
#8 Cakes à la Vampire
#9 Apple in Distress
#10 A 3-D Construction Made of Crisps
#11 See the Likeness 😉
#12 Discounted Monday Apple Pie
#13 Definitely There Was Someone Else Making the Sandwich
#14 Shrimp Worship Paella 😉
#15 When Your Creativity Goes in a Disturbing Direction, as You Make Pancakes With the Likeness of Your Dog
#16 A Dish That's Fat-Free, Gluten-Free, Lactose-Free, and on Top of That, Vegan
#17 Spring Sandwiches
#18 A Giant Pineapple Put in the Middle of the Store
#19 The Creativity of a Child Who Is Learning Remotely
#20 A Very Skilfully Stacked up Carrots
#21 Would You Be Tempted to Have a Piece of This Cake?
#22 Ice Cream Cures
#23 Sad Cakes
#24 Bread Beetles
#25 Ice Cream for Lovers, Pickled Flavour
#26 Marble Doughnut
#27 Rice Krispie Pizza. Worth a Try 😉
#28 And You Already Know Where the Spoon Went Missing
#29 Quarantined Chocolate Bunnies
#30 Eggplant Slippers
#31 When You Don't Have Rollers, Use Carrots
#32 Macaroni Scarf
#33 The Cake Died a Natural Death
#34 Spaghetti Disassembled
#35 Get Your Onion Price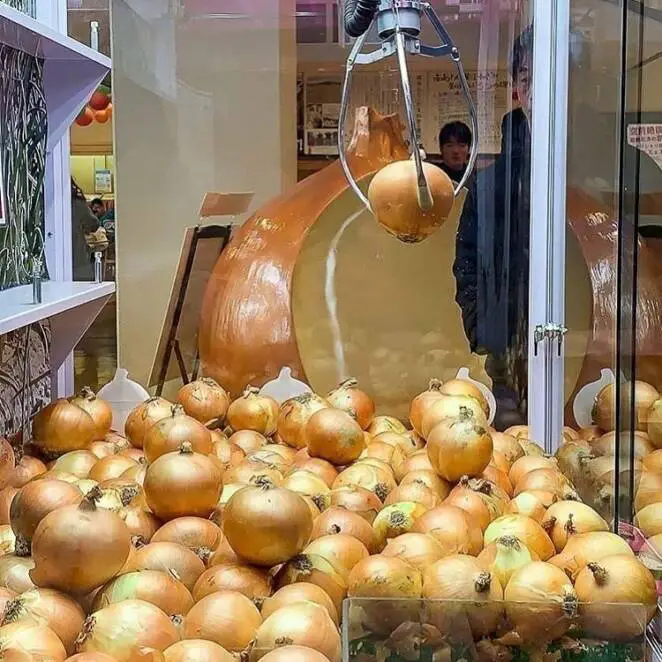 #36 Kebab for Vegetarians
#37 Baby Posing for Crab Soup
#38 Breakfast is Served
#39 Burger for Carnivores
Which photo do you find most disturbing?