How to Prevent Mold and Scale from Forming on a Shower Stall?
The shower, especially in small apartments, is often the place where mold appears. On top of that, there's still that scale! I was sick of scrubbing tiles and glass, so I looked for a way to save the time I was spending cleaning the shower. This method for mold in the shower works best. It also works on limescale from the water!
#Limestone and Mold Remover for Bathroom
1/2 cup of hydrogen peroxide
1/2 cup denatured alcohol
1 teaspoon dishwashing liquid
1 teaspoon dishwasher rinse aid
3 cups of water

Mix all the ingredients, pour into a container with a sprayer and regularly spray the entire shower stall. There is no need to rinse it or wipe it down. Just spray the tiles, fixtures and glass from the cabin and leave it like that.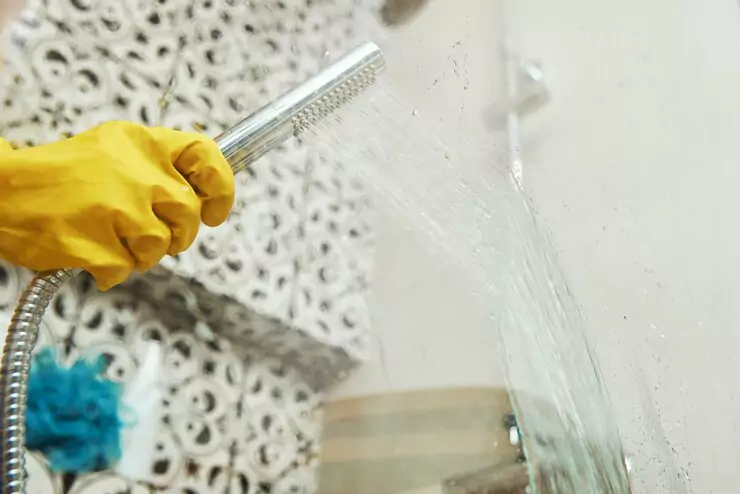 #Mold Treatment in the Shower
This concoction protects against mold and scale buildup. Apply it regularly, even after every use of the shower, and you will forget about scrubbing it for weeks. No mold will appear, there will be no scale and no harmful bacteria will grow!
#Additional Care to Protect Grout from Mold
An additional way to protect grout from dirt and mold is to coat them with a simple candle wax. It is enough to apply a candle to clean and dry grout, A layer of wax further protects them from mold buildup. It creates a glaze, which, however, washes off over time, and the whole procedure is worth repeating in a while. You can read more about it in our separate article.
#Mold Treatment in the Bathroom
If you need to deal with mold first, before using a mold prevention spray, then for hard-to-reach places try our method
Baking soda will also help in the fight against mold. You can sprinkle baking soda on the mold and leave it for a while. As for the grout on the cabin walls, it's easier to spray them with vinegar and then scrub them. For mold that is more difficult to remove, however, you will have to reach for bleach. Then ventilate the bathroom well and use protective gloves.
#How to Clean Shower Cabin Glass?
If you need to polish your shower stall glass first, before you start using an anti-scaling spray, try our trick that will prevent you from wasting time scrubbing it for a long time. An incredibly simple and effective method of cleaning your shower stall!
Let us know if it helped!