13 Ideas for Arranging a Garden Patio and Creating a Comfortable Place to Relax
Arranging seating in the garden is an important thing. After all, everyone wants to spend time nicely and comfortably 😉 Ideas to create, among the greenery, your patio is quite a lot. You can bet on a cluster gazebo, a large swing, a wooden shelter or futuristic balls with places to relax.
#1 Large Swing With White Curtains Protecting From the Sun
#2 A Gazebo in the Form of a House Located Above the Ground
#3 A Gazebo in Oriental Style
#4 Cozy Corner With Metal Gazebo
#5 Futuristic Gazebo Easy to Assemble
#6 Natural Umbrella Made of Wood Wrapped by Vines
#7 A Patio With a Couch and a Triangle Tent for Protection From the Sun
#8 Wooden Shack
#9 Patio With Fireplace and Semi-circular Seating
#10 A Gazebo With Round Holes That Draw Attention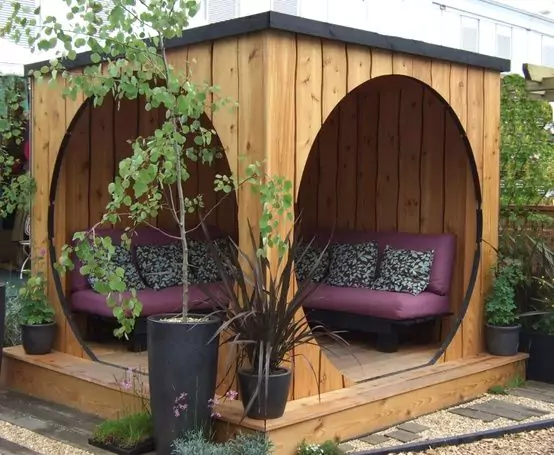 #11 A Wicker Seat
#12 A Gazebo With Moss and Grass on the Roof
#13 A Modern Gazebo That Looks Like a Bubble
How have you landscaped your garden patio?