30 Crazy Christmas Trees That Will Delight Anyone. Perfect for Home and Workplace
If you are not fond of traditional Christmas decorations, then this year bet on a completely original Christmas tree. It doesn't have to be a green tree at all 😉 A ladder, cardboard box or sticks will work well as a tree. And decorate your workplace with a themed Christmas tree made of ties or tires, for example. Passers-by will be amazed 😉 .
#1 Penguin Slide Draws Attention
#2 A Christmas Tree Straight Out of a Movie
#3 I Wonder What's Hidden in the Depths of the Tree 😉 😉
#4 Dwarf in a Festive Setting
#5 A Ladder Christmas Tree 😉
#6 In a Rustic Style
#7 Christmas Tree Divided Into Parts
#8 Perfect for a Small Home
#9 Corner Shelf Perfectly Imitates a Green Tree
#10 Sticks and Strings
#11 Tubes of Different Thickness Imitate a Christmas Tree
#12 Every Painter's Dream 😉
#13 For Minimalists
#14 It Looks Like It's Floating in the Air
#15 Boxes Filled With Baubles
#16 It's a Reference to Forest Life
#17 From Cardboard Boxes
#18 Christmas Tree With Just Lights
Christmas Trees – Business Space
#19 Perfect for the Grocery Store
#20 Exclusive
#21 Green Glove Presentation 😉
#22 Artistic
#23 Someone Knew How to Get Customers' Attention
#24 The Store Has a Wide Selection of Ties
#25 Sweet
#26 For the Customers of a Car Repair Shop
#27 Invites You to Bed 😉
#28 Interesting Library Decoration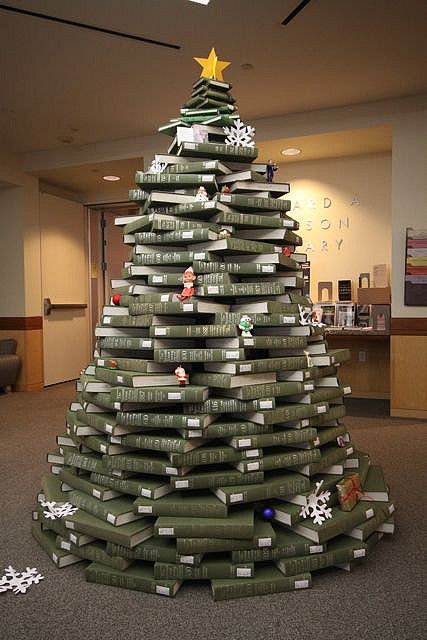 #29 Tires Are Perfect for Christmas Tree 😉
#30 A Prosthetician's Dream 😉
What is the best Xmas tree that you ever seen?