21 Creative Ideas for Good-Looking Meals for Kids
Etoni Mama certainly knows how to encourage her three kids to eat. For her kids she prepares fabulously colorful meals, and ordinary vegetables or fish turns into characters known from cartoons. On the plates appears Winnie the Pooh, Minions or Little Mermaid. No child will disdain such a dinner 😉 .
#1 Tigger Created With Salmon
#2 Radish Bear Swimming in a Dish
#3 Sweet Snowmen With Strawberry Interior
#4 Tomatoes Perfectly Replace Balloons 😉
#5 Screaming Clams 😉
#6 Snails From Yams Crawl to School
#7 Hawaiian Dancers in Sausage Skirts
#8 Minion Toast for Breakfast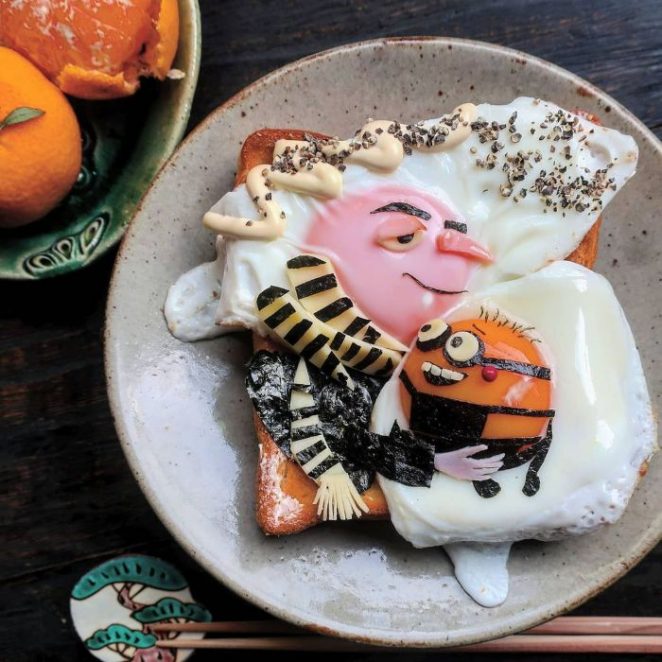 #9 Mr. Potato Head and Mrs. Potato Head Made Out of Potatoes
#10 Vegetable Rooster
#11 Con Minions
#12 Mike Wazowski Alive
#13 Bears Hid in Barrels
#14 An Army of Wiener Soldiers
#15 The Little Mermaid Perched on a Rock of Almonds
#16 Mickey Mouse Made of Pumpkin
#17 The Perfect Halloween Bread
#18 Cookie Cats
#19 Eggplants Relax in the Sauce
#20 Insect-Like Buns
#21 Skinny Heads to Eat
Which dish would you eat first?