The Japanese Artist Is the King Of Book Origami. 25 Sculptures For Home Bookcases
Yuto Yamaguchi hiding under the pseudonym D. Hinklay is the self-proclaimed king of book origami. He masterfully folds individual pages and conjures up three-dimensional inscriptions or images from them.
#1 The Artist Uses Only Second-Hand Books in His Work
#2 He Also Never Cuts or Tears Out Pages
#3 D. Hinklay Admitted That He Hasn't Read All the Books He's Used in His Artwork
#4 He Usually Spends His Days Creating New Work and Listening to Music
#5 The Inscription Was Created in a Book That Has 626 Pages
#6 A Book with 842 Pages Was Used to Carving a Cat
#7 Star Wars
#8 World Map from the Pages of One Book
#9 The Avengers, Endgame
#10 A Mickey Mouse Folded from 350 Pages
#11 The Most Difficult Book Folding the Artist Has Done – 1582 Pages!
#12 The Artist and His Paper Skull
#13 A Bat Makes Its Home in a Book with Only 106 Pages
#14 A Book with 372 Pages Was Enough to Create a Mouth
#15 April Firs, Joke Book
#16 Morning Coffee and a Book in One 😉
#17 Paper Octopus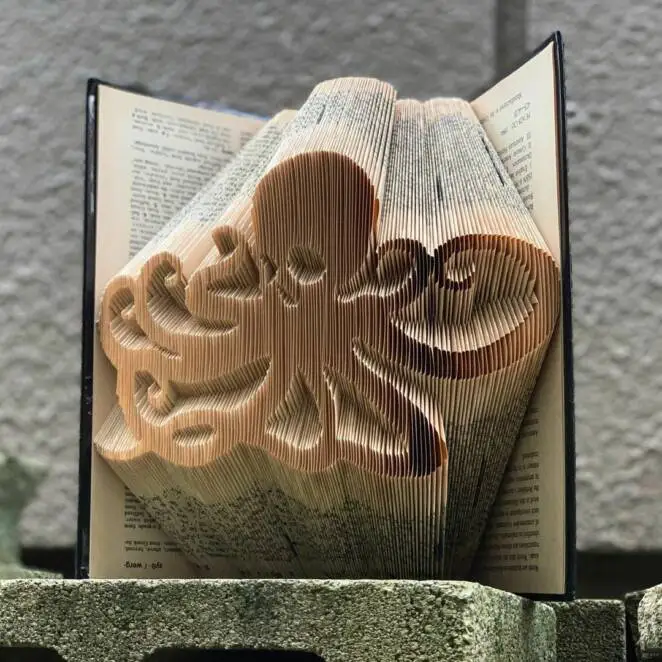 #18 Artist Privately Likes Legos, Energy Drinks and Wrestling
#19 Writing With Flair. One Letter Is a Separate Book
#20 Two Hearts for Lovers
#21 Everyone Could Use More Smiles 😉
#22 A Variation on Question Marks
#23 The Spider-Man of 1006 Pages
#24 Interestingly Enough Book Origami Can Be Purchased on the Artist's Website
#25 Some of the Book Works
#BONUS
Here's how the work is created 😉 .
 

 

Wyświetl ten post na Instagramie.