27 Colorful Murals That Mask Gray Architectural Elements and Bring Streets to Life
Tom Bob is an American artist who changes the look of cities. He creates colorful murals that perfectly correspond with the surrounding reality. He uses paint to cover pipes, doors, sewage manholes that look ugly and dirty, and transforms them into animals or people. This is street art full of humour.
#1 The Key to Someone's Heart Lies in the Street
#2 A Monster With a Giant Tongue
#3 A Metal Rabbit
#4 Raccoon Between the Rocks
#5 A Mouse With a Giant Piece of Cheese
#6 A Pipe Turned Into a Dalmatian
#7 A Flower That Will Never Dry Out
#8 A Giant Pigeon With a Crown
#9 The Road Worker With His Hammer
#10 Eggs Fry on a Sewer Manhole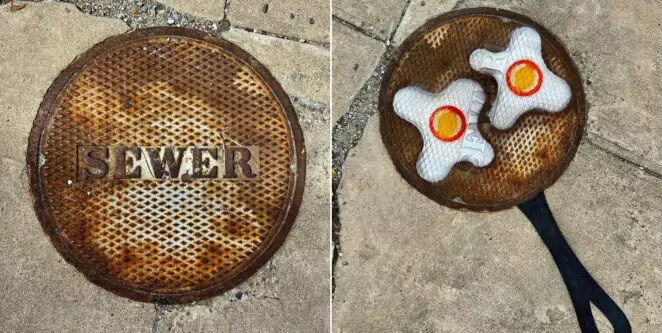 #11 The Street Saxophonist
#12 An Insect With Big Eyes
#13 A Bird That Watches Everything Closely
#14 A Diver With His Wheel
#15 A Squirrel in Its Hole
#16 The Frog That Stands on Its Head
#17 The Animal That's Not Afraid of Spiders
#18 The Joker Paints His Mouth
#19 Cute Earthworms
#20 Trash Cans Turned Into Ladybugs
#21 A Runaway Leprechaun
#22 The First Skydive
#23 Eating Fries Against the Wall
#24 The Menacing Bear
#25 A Robot and His Lollipop
#26 A Thief Falling Into a River
#27 The Watch Salesman
Which mural did you like best?