A shiny and colorful Christmas tree plus a cat it's a bargain of an inevitable disaster. But there are people who cannot imagine Christmas without a decorated tree around. They show a lot of fantasy and are able to do a lot to protect the Christmas tree from the cat's curiosity.
1. The Cage Will Effectively Discourage Any Furry Creature to Strike
2. A Christmas Tree With Nothing but The Lights up on the Wall. As You Can See, the Cat Is Not Interested
3. Wedge Protection From Cats and Small Children 😉
4. No Cat Will Dare to Jump on a Cactus Tree
5. Christmas Tree for Minimalists
6. Cat-Friendly Tree
7. Tasteful Christmas Tree Closed in a Lantern
8. Christmas Tree Against the Rules of Gravity
9. Christmas Inspired Tapestry
10. Christmas Tree Substitute – Chandelier With Hanging Bombs
11. Small Christmas Tree In Isolated Heights 😉
12. No Kitten Will Jump at a Tree Attached to a Wall
13. Year-Round Christmas Tree, That Does Not Need to Be Unwrapped
14. Tasteful Decoration Hanging From the Ceiling
15. Small Christmas Tree Painted on a Mirror With Real Lights
16. The Top Part of This Christmas Tree Can't Be Accessed by Cat
17. Replacement of the Real Christmas Tree, Guarded by a Dangerous Cat
18. The Ideal Shielding
19. A Christmas Tree That Is Tailored to the Needs of Cats
20. With Hope That Cat Will Noticed The Tree on The Fridge
21. The Upside-Down Christmas Tree
22. Even the Most Clever Cat Will Not Get to This Tree
23. The Christmas Tree on the Balcony Is a Good Solution
24. Double Protection – No Decorations or Hurdles
25. Miss Cat Lover and Her Christmas Decoration Inspiration
BONUS: These cats will not give up 😉.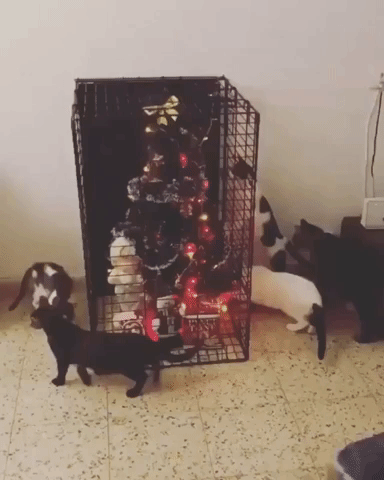 How do you protect your Christmas from unprecedented cat attack? 😉